Kirkby Lonsdale & Local Area

Devil's Bridge - The legend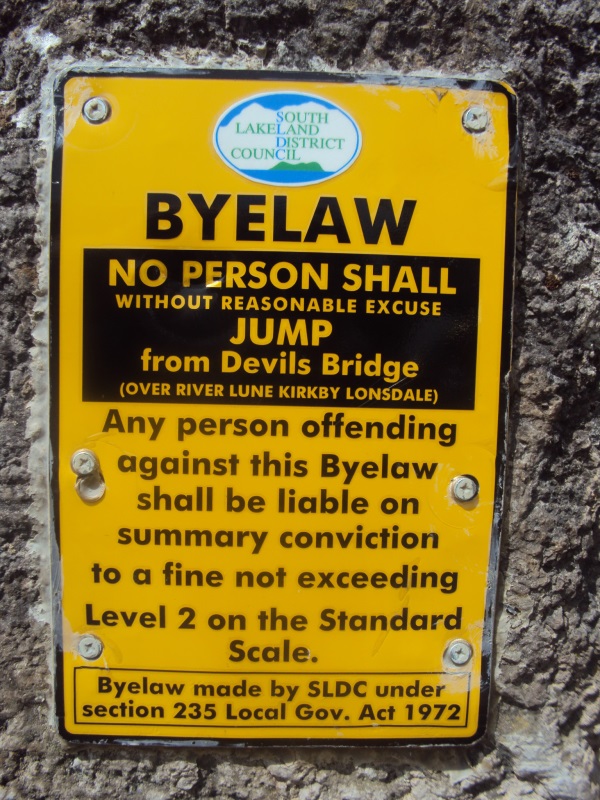 No jumping from the bridge
Many years ago, before there was a bridge in Kirkby Lonsdale, an old woman lived on the banks of the Lune and kept a few animals. One night her cow strayed across to the other side of the river and would not come back. In response to her predicament, the Devil appeared and promised to build a bridge by morning in exchange fora soul - the first to cross the bridge, thinking that it would be the woman herself. By morning the bridge was complete and the oldwoman agreed to fulfil her part of the bargain. She delved into her bag and threw a bun across the bridge, whereupon her small dogran over to retrieve it. The devil, in a fit of rage at being thwarted, howled in anger and vanished leaving behind a smell of burning brimstone (sulphur).
The Bridge
One of the most interesting sights in the area includes the medieval Devil''s Bridge which spans the river in three ribbed arches, which is probably 12th or 13th Century and is a scheduled ancient monument. Turner painted landscapes of the area - including the best known 'Ruskin's View'. Ruskin was pretty impressed with the area, as are the numerous bikers that congregate at the bridge if the weather is fine.
Kirkby Lonsdale
Kirkby Lonsdale, is a charming market town on the edge of the Yorkshire Dales National Park set in the Lune Valley. Excellent as a base for both the Lake District and the Yorkshire Dales, the area has inspired artists such as Constable and Turner, and offers ancient Norman Churches, mentioned in the Doomsday Book of 1086, and is full of numerous 17th and 18th century buildings. The scenic beauty of the River Lune is spectacular. John Ruskin thought Kirkby Lonsdale and the surrounding area one of the most beautiful in England. The town is known for its 'Ruskin's View'.
Kirkby Lonsdale is a historic market town between the Lake District and the Yorkshire Dales. It is a very ancient settlement - A host of 17th and 18th Century buildings now accommodate inns, restaurants and shops. Kirkby Lonsdale is crammed with delightful specialist shops, particularly antique shops.
The Church of St Mary the Virgin is Norman, probably built between 1093 and 1130, although there was an old Saxon Church on the site before.
Kirkby Lonsdale has been a winner of the 'Britain in Bloom' competition - 18th century inns in the town are just one of the many attractions on offer!
To the north west Kirkby Stephen is another idyllic market town within the Eden Valley pushing towards the North Pennines. The Pennines shift into the river valleys of the Eden Valley to great effect particularly around Mallerstang.
Useful Local Area Links